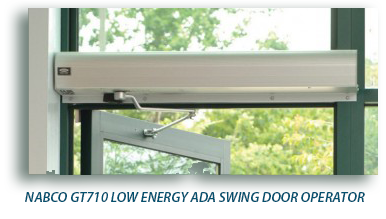 Qualitydoor.com Carrys the Nabco Gt8710 and Gt710 lowe engergy door operates and the commercial door hardware for a complete door opening system.  Two of the best door operators that Qualitydoor.com distributes are the NABCO GT710 Low Energy ADA Swing Door Operator and the NABCO GT8710 Low Energy ADA wing Door Operator. Qualitydoor.com highly recommends these door operators to hospitals, healthcare facilities, elderly care facilities, commercial buildings, medical offices, industrial and retail environments. The GT710/GT8710 operate in both automatic and manual modes with a hydraulic back-check that protects the door and mechanical operator from damage when forced open in windy conditions or when manually operated. The Low Energy performance, combined with adjustable opening and closing speeds, reduces energy usage to help offer a prompt return on your investment.
The GT710/GT8710 is approved for use on fire door assemblies rated up to 3 hours and both are engineered for interior and exterior use. These door operators are perfect for pair or single door applications and Quality Door & Hardware stocks these operators in Clear Aluminum and Dark Bronze finishes. These door operators are designed to automate nearly any new or existing door.
To purchase Gt8710 or GT710 low engergy nabco operators click this link
https://www.qualitydoor.com/all-brands/nabco-automaic-doors.html
For bea actuator paddles that work with the auto operators click the link below.
https://www.qualitydoor.com/all-brands/bea-sensors.html
Qualitydoor.com is Veteran owned and operatored and holds two Gsa contracts on schedules 56 & 84. For customer service call us at 800.992.3667 or email sales@qualitydoor.com